Kinovate Heating, Cooling and Indoor Air Quality
The Rock River Valley's Premier HVAC Contractor
It's What's Inside that Counts!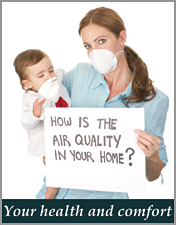 With your family's busy schedule, the last thing you want to think about is your indoor air quality. However, with studies from the U.S. Environmental Protection Agency showing that indoor air can be more polluted than the air outside, your home may not be quite the safe haven you think. Fortunately, Kinovate Heating, Cooling and Indoor Air Quality offers a complete line of indoor air quality products to combat poor air quality and its effects. With extra protection, comfort and efficiency, there will be no place like home!





FILTRATION Getting particular about particles!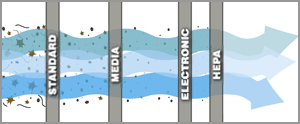 Whole-house filters can capture up to 98% of airborne particles passing through the duct system.
Pollutants and particles the size of a micron (one-millionth of a meter) can easily go unfiltered, leaving behind dust, pollen, pet dander and bacteria. These pollutants are the culprit of allergies and the layer of film covering furnishings, walls and draperies. With three different air cleaners to choose from, your air will be cleaner and allergy symptoms reduced. High quality air cleaners from Kinovate include:
Media Air Cleaner
Captures: airborne dust, pollen and other contaminants
Filter replacement: every 6 to 12 months
Electronic Air Cleaner
Captures: dust, smoke, mold spores, pet dander and more
Filter replacement: washable, no replacing
HEPA Air Cleaners (three filter system)
Captures: 99.97 percent of particles 0.3 microns or larger
Filter replacement: varies, dependent on each filter
Ask your Kinovate Heating, Cooling and Indoor Air Quality Specialist which filtration system will work best for your home, your family and for this region.
MOISTURE CONTROL
From dry, itchy skin to sticking to your leather couch, the moisture (or lack of it) in your home can really decrease your quality of life. Humidifiers reduce the effects of dry air like scratchy throat and static electricity while dehumidifiers lessen side effects of too much humidity, such as allergies and asthma attacks.
Humidifiers – Replenishing moisture, repelling chapping and zapping.
With three different humidifiers to choose from, the effects of dry air are reduced while making your home feel warmer, translating into savings in your utility bill. Lowering your thermostat by as little as three degrees can reduce annual heating bills by as much as five percent. Humidifiers from Kinovate include: Steam Humidifiers, Bypass Humidifiers and Power Humidifiers.
Dehumidifier – Condensing humidity, expanding comfort.
The Whole House Dehumidifier works double duty to eliminateexcess moisture and prevent toxic mold growth throughout your home. The result? A healthy and comfortable lifestyle. Plus, dehumidifiers are energy efficient and can remove up to 130 pints of moisture per day.
Talk to a Kinovate Heating, Cooling and Indoor Air Quality Specialist to determine which moisture control system will work best in your home.
UV AIR PURIFICATION Put harmful bacteria under the spotlight!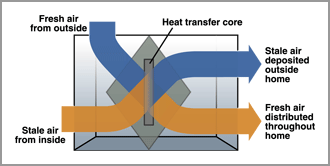 Your system's evaporator coil can be a breeding ground for bacteria and mold to form, which can then be transferred inside your house. These pollutants can lead to illness, allergies and odors in the home. The UV Air Purification System stops mold in its tracks by radiating germ-killing levels of ultraviolet light through a 50 watt UVC lamp.
To learn more about UV Air Purification Systems, contact a Kinovate Heating, Cooling and Indoor Air Quality Specialist!
VENTILATION Air so fresh, you won't believe you're indoors!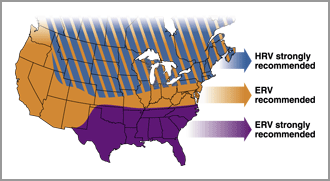 With homes being built tighter than ever, pollutants and allergens become trapped indoors. Germs, dander and mold are just waiting to be inhaled, causing asthma, allergies or worse. That's why it's so important to ventilate the stale air your family breathes on a daily basis with fresh air. A ventilator swaps stale air with fresh, via a fan-powered system. An Energy Recovery Ventilation System can recover up to 80 percent of the energy exchanged, resulting in lowered utility bills. Kinovate offers two types of ventilators:
Heat Recovery Ventilator
Ideal in northernmost climates, HRVs replace stale air from inside your home with fresh, extracting 70 to 80 percent of the heat from the stale air. The extracted heat is used to warm the incoming fresh air before entering the house via an energy efficient fan-powered system.
Energy Recovery Ventilator
Most cost-effective in climates with extreme winters or summers, ERVs perform the same functions as HRVs, but with the added benefit of controlling moisture in the home.
For more information on the right Ventilator for your home, contact a Kinovate Heating, Cooling and Indoor Air Quality Specialist!
HealthyAIR IAQ TEST Diagnose the problem!
Kinovate's HealthyAir IAQ test evaluates your home's indoor air quality and pinpoints air quality problems that can affect you and your family's health, as well as their comfort and safety. Performing the test is easy! Our Indoor Air Quality Specialist uses monitors and counters to measure temperature, humidity, carbon monoxide and airborne particles. A duct inspection is also provided with an inspection video and camera scope. The whole process takes less than an hour and there is no wait for your results, unlike other methods that can take 3 to 4 days and two visits from a technician.
With the quick results from your HealthyAir IAQ test, you and a Kinovate Specialist can work together to select the best solution for you, your family and your home.
We also offer Blower Door Testing, Duct Leakage Testing & Sealing and Duct Cleanings!
Give Your Home a Breathe-Better Makeover!
We have the solution for a healthier home! Schedule a HealthyAir IAQ Test or a Free In-Home Consultation by calling Kinovate Heating Cooling and Indoor Air Quality at 815-270-0777 or contact us online!

Cited Source: Homeowners IAQ Brochure by The Luxaire brand of Johnson Controls, Inc.